Chronogram reviews Time Bomb
April 1, 2018
https://www.chronogram.com/hudsonvalley/the-suicide-commandos-time-bomb-album-review/Content?oid=4482798
Originally active from 1975 to 1979, the Suicide Commandos lit the fuse for the combustible Twin Cities punk rock scene. In 1978, the trio of Chris Osgood (guitars/vocals), Steve Almaas (bass/vocals), and Dave Ahl (drums/vocals) released the crucial Make a Record and a crackling live album before going their separate ways. Almaas fronted Beat Rodeo before moving to West Saugerties and releasing solo records. The Commandos have reunited sporadically over the decades, and now, nearly 40 years later, comes a proper follow-up to their inspirational debut. Their original raw energy, commitment, and lyrical irreverence are fully intact, with added flourishes of country twang, hard boogie, swagger, and plenty of beautiful guitar distortion. "Hallelujah Boys" is a paean to playing rock 'n' roll with lifelong friends, while "Boogie's Coldest Acre" boasts the exhortation to "put that fucking thing down!" The Almaas-penned "For Such a Mean Time" is a searching folk rocker attempting to make sense of a zeitgeist lacking in human compassion.
February 23, 2018
The March issue of Rolling Stone France is on newsstands in Europe
Suicide Commandos "Time Bomb" Twin/Tone Records
Four Stars
"Time Bomb"
If the scene of St. Paul-Minneapolis is more known to have produced artists of the caliber of Prince or The Replacements - and even Bob Dylan -, the punk and alternative has a place apart. When in the mid-1970s The Suicide Commandos were formed, punk was barely born. And if the group broke up after their first record, it was to better come back ... In 2017 by honoring the debt of their label then, Twin/Tone, to whom they owed an album. This new effort is surprising, both for its energy and for its shimmering mix and quite original for this musical genre. The compositions are brilliant and furiously playful and the three original members have lost none of their verve, their game and especially, their desire to sustain their music. The "must have" collector LP of the month.
October 20, 2017
THE SUICIDE COMMANDOS' STEVE ALMAAS, DAVE AHL, AND CHRIS OSGOOD ON NEW ALBUM 'TIME BOMB' AND WHAT LIES AHEAD
https://www.inquisitr.com/4528559/the-suicide-commandos-steve-almaas-dave-ahl-and-chris-osgood-on-new-album-time-bomb-and-what-lies-ahead/
A Minneapolis punk rock trio formed in 1975, the Suicide Commandos was in rare company in its early days. The group — comprised of bassist Steve Almaas, drummer Dave Ahl, and guitarist Chris Osgood — inked a deal with Mercury Records subsidiary Blank Records in 1977, releasing Make a Record. Ultimately, the Suicide Commandos disbanded within four years of forming, before the Minneapolis music scene had noticeably produced acclaimed talents like the Replacements, Soul Asylum, Husker Du, and Prince.
Activity within the Suicide Commandos camp slowly resumed in the 1990s as a cult following for the band was steadily growing. Ultimately, Commandos song "Complicated Fun" was licensed for commercials in 2003 and 2004, while "Burn It Down" became part of a Chuck Statler retrospective at the Museum of Modern Art. Minneapolis radio station the Current asked the Suicide Commandos to be a co-headlining act at its 7th Birthday Party in 2013. 2015 brought a limited-edition vinyl EP release featuring Commandos recordings from 1978, which the group supported with a January 2015 show at St. Paul's Turf Club.
In 2016, the Suicide Commandos recorded its first full-length studio album in 38 years, Time Bomb. Twin/Tone Records — especially known for its work with the Replacements — was revived to release Time Bomb, its first new title since 1998. Showing how far punk rock has come in terms of acceptability from "the man," St. Paul Mayor Chris Coleman and Minneapolis Mayor Betsy Hodges declared May 5, 2017, as "Commando Day" in the Twin Cities, leading vinyl copies of Time Bomb to sell out immediately.
To learn more about Time Bomb, I had the pleasure of speaking with not only Almaas, Ahl, and Osgood, but also with Twin/Tone co-founder (and former Replacements manager) Peter Jesperson. More on the Suicide Commandos can be found on the Twin/Tone website at www.twintone.com/commandos.
Your only previous studio album was released in 1978. Why did you decide to make a new record now?
Dave Ahl: The Commandos try to play one to three shows a year in our hometown, Minneapolis. We always have fun and our crowd seems to dig it, so we wanted to offer something new to our loyal following that we could be proud of.
Steve Almaas: We've been getting together most every year to play reunion shows for quite some time. It occurred to us a couple of years ago as some of our contemporaries started to leave this mortal coil, that maybe we should do something while we're all still here.
How long did it take to record Time Bomb?
Steve Almaas: Including the demo process, which was done long distance between Minneapolis and New York, the album took a leisurely paced year to put together. The bass and drums were recorded in three days after a week of rehearsal and two gigs with Bob Mould. We were warmed up. Guitars and vocals were overdubbed over the next few months.
Chris Osgood: The initial tracking was done at Master Mix in Minneapolis in three days in late April 2016 after the Bob Mould shows at First Avenue; notably, the weekend after Prince died.
How many songs were written for the album?
Steve Almaas: We didn't record anything that wasn't included on the album. I'm sure everyone had more songs, but we struck a good balance with these.
Do you have a favorite song on the new album?
Chris Osgood: Yes!
Dave Ahl: I particularly like "Milk of Human Kindness," it's punk rock and funny.
Steve Almaas: There are too many I like to pick just one, but I will say a particular favorite is "If I Can't Make You Love Me" because everyone contributed to the writing process. I find the rave-up in the middle very pleasing as well.
Peter Jesperson: Tough question 'cos I really do love them all but, if I had to call out just one, I'd say "For Such a Mean Time" is my fave. It's catchy and topical.
The Suicide Commandos to release 1st new album since 1978 — on revived Twin/Tone label http://bit.ly/2msRvkS
Do you have any goals for Time Bomb?
Dave Ahl: To go national!
Chris Osgood: I would like the album to become as ubiquitous as blue jeans. I think once people realize that Twin/Tone Records came alive to release the record we failed to deliver in 1977 when we got scooped up by Phonogram/Polydor, everyone will simply have to have one. Right?
Steve Almaas: To have as many people hear it as possible.
Peter, does the new Suicide Commandos album mean that Twin/Tone is back?
Peter Jesperson: Another tough question! We're exploring the parameters of making new records with new artists, as well as doing some archival Twin/Tone releases. If we can come up with the funding to do so, great. If not, resurrecting the label just for this Suicide Commandos album would be pretty poetic, too.
Was a Suicide Commandos reunion in the studio the impetus for the Twin/Tone relaunch?
Peter Jesperson: As a matter of fact, yes!
How did the band first come together in 1975?
Chris Osgood: Dave and I had been in bands together in high school. I went off to Hampshire College in Amherst, Massachusetts. I was in a big hurry to get in a band with Dave again, so I graduated in three years and rushed back into his arms. Steve was our friend and had been to parties at Utopia House where we lived. We decided to be a three-piece so we might be able to survive on band income, and Steve fit right in.
Dave Ahl: I started playing with Chris in seventh grade. When Chris came back from college, we put the Commandos together with Steve as a like-minded compatriot.
What were your collective musical influences?
Steve Almaas: ZZ Top, the New York Dolls, the Stooges, Roxy Music, John Cale, Eddie Cochran, David Bowie, the Modern Lovers, the Nuggets compilation, etc. Hearing the first Ramones album in the spring of 1976 showed us the way forward.
Chris Osgood: Like Steve said, lots of Eddie Cochran, Gene Vincent and the Blue Caps, English "pub rock" as it was called, as well as Bowie, Roxy, the Bonzo Dog Doo-Dah Band… and in my case specifically, power trios: Cream, Jimi Hendrix, and ZZ Top.
Dave Ahl: Blue Cheer, Jimi Hendrix, Cream, the Who, the Bonzo Dog Doo-Dah Band, Arthur Brown, the Litter.
You were known for doing original material at a time when most bands in your hometown of Minneapolis were doing cover songs. What made you so determined to do your own stuff?
Chris Osgood: We liked our own songs, which early on we had to introduce as "by Aerosmith" or someone else the audience knew and liked.
Steve Almaas: When I got together with Chris and Dave, Chris was already writing some very good songs. I was impressed and followed his lead. It was very satisfying.
The band started traveling nationally in 1976. What was touring like then?
Chris Osgood: It was rattling around in the back of a van that Dave owned. Nothing new. We had been doing it around Minnesota and the upper Midwest for years before we did it coast to coast. Sleeping on floors and couches usually, with a motel room we all shared from time to time. That was luxurious!
Steve Almaas: There were very few places we could play. Cleveland, New York, Boston, and then later Denver, L.A., and San Francisco. The scene was very small and very intense. Someone pointed out to me that we made punk rock records when you could own all the punk rock records that had been made through 1978. I like that.
Dave Ahl: We were always a DIY band, we'd book our own tours, make friends along the way, and then do it again and again. It was a revelation when Blank Records introduced us to the concept of a "credit card," falsifying our application to indicate that I was an A&R person for Phonogram…
Your band was very influential among other Minneapolis artists. Do you remember the first time your music was covered? Or at least that it was evident that your band mattered to more than just your friends and family?
Steve Almaas: The scene that started in the Blitz Bar and then moved on to the Longhorn gave us a lot of validation. When we played in those days, it was a very real dance between the band and the audience. Discovering other like-minded souls as we left Minneapolis to play in Cleveland, New York, Denver, and California was pretty gratifying, too.
I've heard covers of our songs by The Magnolias ("Complicated Fun"), the Swedish band Sator ("I'll Wait") and Soul Asylum ("Attacking the Beat"). I like them all…
Chris Osgood: There are some other versions of "Complicated Fun" floating around out there, too. What was more important at the time was turning people on to real rock 'n' roll. Wherever we played people loved us and we changed their lives, or they waited around to beat us up after the gig. I met a guy named Greg at the Soul Asylum/Guided by Voices show we played last weekend who declared how much he hated us at first — then he started his own band!
Bob Mehr's Replacements book, Trouble Boys, included several mentions of the Suicide Commandos. Do you like how you were represented in the book?
Chris Osgood: Bob wrote a great book that was fun to read. I learned a lot I didn't know, and I was there!
Steve Almaas: I'm happy that we received credit for our place in the scheme of things.
Dave Ahl: I'll have to read it!
Is there a band accomplishment that you are most proud of?
Chris Osgood: Being named "Best Twin Cities Band" and "Worst Twin Cities Band" in the local weekly in 1978.
Steve Almaas: I'm feeling pretty good that we've managed to make an album I'm proud of.
Dave Ahl: I like our new record, Time Bomb!
When not busy with music, how do you like to spend your free time?
Steve Almaas: I spend as much time as possible at my cottage in the Catskill Mountains. Wandering with my dog and spending time with friends and family. My little slice of heaven.
Chris Osgood: My wife Adrianne and I fly fish in Wisconsin and Wyoming and we spend part of the year in Southwest France in an old stone house — built in 1299! — that we have been slowly fixing up. I work with eight suppliers to bring the wines of Southwest France to Minnesota. My day job is being vice president of community relations at McNally Smith College of Music in St. Paul, Minnesota.
Dave Ahl: Reading.
Finally, any last words for the kids?
Steve Almaas: It's still as important as ever to just get out there and do it. Who knows what will happen…
Chris Osgood: I will always be proud that the Commandos made a living for years playing music people hated! Eventually, of course, some came around. If you believe in something, don't be a wimp! Don't second-guess yourself and worry that other people won't find you cool. If you think that way, you're already not cool, right?
Dave Ahl: The Suicide Commandos have two mottos: "For the Benefit and Enjoyment of the People" and "For Better School Lunches."
Suicide Commandos play last-ever in-store show at Treehouse Records
http://blog.thecurrent.org/2017/05/suicide-commandos-turn-the-clock-backwards-and-forwards-at-treehouse-records/
by Ibad Jafri · May 9, 2017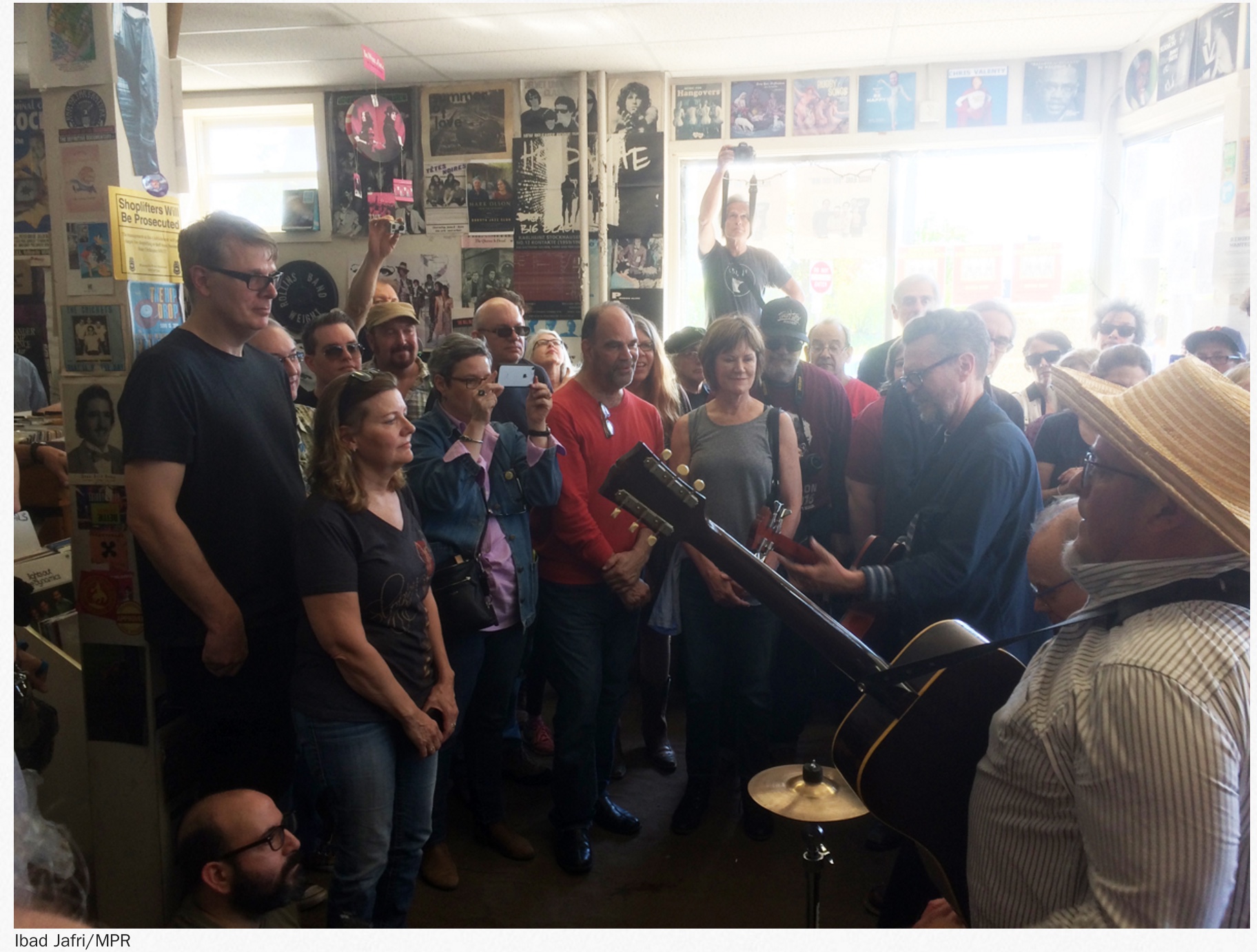 As I walked into Treehouse Records on this past, balmy, Saturday afternoon, I immediately noticed that I was the youngest person in the building by a good margin. And it was awesome. A crowd was gathered to watch the Suicide Commandos play an acoustic set of new songs a day after the release of Time Bomb, their first album in 38 years.
At 2 p.m., the excitement in the air was palpable even more than the sweat and the dust from the one-dollar clearance shelves. "I'm really, really happy," said photographer Mark Engebretson, 58, of Minneapolis, who first saw the Commandos at a 1977 St. Paul show with the Ramones, and later saw many of their shows at Jay's Longhorn Bar. Engebretson, who is making a documentary on the Longhorn, had been waiting a while for the Commandos' return. "It's overdue."
Eventually, some younger fans filed in and shared in my excitement as well. "They're just a great Minneapolis band, said local Zach Baker, 23. The younger concertgoers also shared an appreciation for Treehouse. "Minneapolis has such a rich alternative music scene, going back a really long time. This is hallowed ground for that, and I really want to be a part of it because I missed it the first time," added Chris Wheeler, 23.
Expert showmen that they are, the Commandos let the tension build, signing records and t-shirts for over an hour. Copies of Cyn Collins's new book Complicated Fun: The Birth of Minneapolis Punk and Indie Rock are also strategically positioned for sale, and Collins herself showed up later to sign a few copies. But by 3 p.m., the local legends were ready to play a short set of brand-new material.
Once sufficiently warmed up, they blurred through new songs from the album with boundless energy and the kind of timeless, irreverent humor that influenced so many younger rock groups. Chris Osgood wore a confident sneer. Steve Almaas was a kid in a candy store. Dave Ahl sang like he was about to explode out of his shoes.
The addition of Suburbs drummer Hugo Klaers near the end of the set, on a cover of the Monkees' "She," was a reminder that the album marked the return of not just the Suicide Commandos, but the entire Twin/Tone label, which was reborn to release Time Bomb. Klaers's hair, as always, was on point. "Frogtown" took the energy even further, with a feature by Twin Cities comedienne Phyllis Wright on a crutch and wielding a kiddie microphone, verbally sparring with Ahl.
Everyone was pretty sweaty at that point. No one cared. In some respects, it was a day for reminiscing with faces familiar on stage and in the audience. The retrospective was jolted by the news that it was the last-ever in-store show at Treehouse, formerly Oar Folkjokeopus. Treehouse owner Mark Trehus is retiring this year, and the crowd pays him their dues for years of music.
"I've been wanting for the 32 years that I've been on this corner to have this band play here," said Trehus. But even with their respect for the past, this crowd was joyful and grounded in the present. "I am going out with my favorite band." It's not hard to see why. Today, with a sound that maintains their signature madcap energy while adding decades-worth of experience and polish, the Suicide Commandos are looking forward.
Setlist
Hallelujah Boys
Ezekiel Saw the Wheel
Cocktail Shaker
Ghost Burrito
She (feat. Hugo Klaers)
Frogtown
Ibad Jafri went to Treehouse Records to see the Suicide Commandos. While there, he bought a Lawrence Welk record.
Go (Suicide) Commando this weekend in the Twin Cities
http://blog.thecurrent.org/2017/05/go-suicide-commando-this-weekend-in-the-twin-cities/
by Jackie Renzetti · May 3, 2017
With all but an official proclamation (so far, at least), May 5-7 is "Commando Weekend" in the Twin Cities, as local punk legends the Suicide Commandos celebrate the release of their new album, Time Bomb. The album will be the first release in 19 years on the storied local label Twin/Tone Records.
While the band's Chris Osgood says the band are lining up shows for the rest of the summer, you can catch the band for an acoustic performance and a listening party — as well as a "special event" that is yet to be announced.
On Friday, the Turf Club will host a listening party in its Clown Lounge. The party begins at 7 p.m., and Kevin Cole (of KEXP) and Peter Jesperson (of Twin/Tone Records) will spin the record at 7:30. The Suicide Commandos will be there to sign copies of the record, and KFAI host and Minneapolis author Cyn Collins will also be signing her new book on the history of Twin Cities punk, called Complicated Fun — in fact, the book takes its name from a Suicide Commandos song.
Next, the band plays an in-store, acoustic performance at Treehouse Records from 2-4 p.m. Saturday. Dubbed an "Acoustic Hootenanny," the Suicide Commandos will play a few songs and sign more copies of their record.
The band has an announcement scheduled for 5 p.m. Saturday about what Sunday's Commando Weekend festivities entail.
"The Suicide Commandos were doing punk rock before anybody else was doing it," says Terry Katzman in Complicated Fun. "How they interpreted rock and roll and their devil-may-care attitude, bringing so many influences into their sound, influenced a bunch of other bands to do the same thing."
"Once you saw and heard the Suicide Commandos," agrees former First Avenue booker Chrissie Dunlap in Collins's book, "music was changed. So, yeah, they were the first real punk rock band in Minneapolis and the leaders of the pack for that genre."
Jackie Renzetti studies journalism and political science at the University of Minnesota — Twin Cities. She is an editor at the Minnesota Daily and co-hosts Radio K's "Off the Record."
The Suicide Commandos make another record
http://www.citypages.com/music/the-suicide-commandos-make-another-record/421055034
Wednesday, May 3, 2017 by Jim Walsh in Music
Almost 40 years after their groundbreaking debut, the Minneapolis punk pioneers return to drop Time Bomb
"Thanks a lot you guys." That's what I hear myself say to Chris Osgood and Dave Ahl as I shake hands with two of the three Suicide Commandos after an hour-long chat at Studio 2 Café in south Minneapolis last week, and we share a brief chuckle. Over the years, "thanks a lot you guys" has been Osgood's signature salutation at the end of Commandos' songs and sets, and for a generation of grateful punks, my parting shot is a fittingly Minnesota Nice way of expressing gratitude for the prairie punk pioneers who took rock 'n' roll by the scruff of its bloated neck in the mid-'70s and made it raw, fun, and revolutionary again.
One of those grateful punks is Soul Asylum's Dave Pirner, who extols his admiration for the Commandos and other punk rock forebears in Cyn Collins' terrific new oral history, Complicated Fun: The Birth of Minneapolis Punk and Indie Rock, 1974-1984 (Minnesota Historical Society Press, reviewed here). "To this day I see him as a mentor," Pirner said of Osgood, and he credits our current Minneapolis hotbed to a lot of smart people and tastemakers who came before him. One of these, book MVP Terry Katzman, sums up the Commandos' legacy succinctly: "The Suicide Commandos were doing punk rock before anybody else was doing it."
Deserving though they may be, such accolades tend to mummify bands, a fate the three cool cats (singer/guitarist Osgood, singer/drummer Ahl, and New York-based singer/bassist Steve Almaas) kick against nicely on Time Bomb, their first new recording in almost four decades, released this week on Minneapolis' seminal and also newly out-of-mothballs label Twin/Tone Records. Eerily and deliciously, the 13 songs on Time Bomb sound both super fresh and of a moment, as if they were somehow recorded with today's technology in 1977, alongside the likes of the Ramones—whose members' demise led directly to the Commandos' decision to record and regroup.
"The impetus for getting us off the dime was Steve calling and saying, [Ramones drummer] Tommy Erdelyi is gone, all the Ramones are gone, dead; we're all alive, let's get on it, let's do it," says Osgood.
"We were really on a mission with the Commandos to go out and reenergize rock 'n' roll," Osgood says. "We really were. We saw ourselves as being on a mission from God to do that. The Commandos were born of us just hating everything that was on the radio. We just said, 'Let's bring back Eddie Cochran. Let's bring back Gene Vincent. That's what rock 'n' roll is.' So that's what we did. But we were pretty good players, even then, and I think we play pretty well on this record."
"Forty years of practice," says Ahl.
"That's it," laughs Osgood. "It's thrilling to hear Steve and Dave play, and how well they play, and how well we play together. That's for others to judge, but it's enjoyable to listen to. I don't ever wince or think, 'I should've played it another way.'"
In their day, the Commandos recorded two albums: Make a Record (1978) and The Commandos Commit Suicide Dance Concert (1979). The band initially split up in 1979 when Almaas moved to New York to front his bands the Crackers and Beat Rodeo, and to embark on a solo singer-songwriter career.
"We were a punk rock band when you could own all of the punk rock records because there were so few of them, and that's probably a distinction we have that most musicians don't," says Almaas by phone from his home in upstate New York. "You know, we were a punk band playing at CBGB's in May of 1976, from Minneapolis, and that's just kind of a weird thing. A weird good thing.
"The legacy of the Suicide Commandos was very much on my mind when we were making this record. I really wanted to tap into all that music that we were grooving on when we first got together and I think we managed to do that."
Time Bomb was recorded over three days in April of last year by versatile south Minneapolis-based songwriter/engineer/producer Kevin Bowe at his home studio (which Ahl built) and mixed by indie rock/power-pop hero Mitch Easter. Now it's time for the Commandos, all in their early 60s, to get out there and promote it—starting with two performances this weekend. Could a world tour be next?
"It would be awesome, it would be totally fun," says Osgood. "We don't want to strap it on for the rest of our lives, I don't think, and I don't think we're going to rattle around in a van, except for in Europe, where you kind of have to do that. And we've got a publishing deal, too, so these songs can go places and do things."
"They've got our whole catalog," says Ahl. "The old stuff too."
"They'll have it for three years, and now we really have some people in our corner that are going to work it," says Osgood. "The other thing is that we have reinvigorated [Twin/Tone Records founders] Paul [Stark] and Peter [Jesperson], and as I've been saying, they've been flexing record company muscles they haven't flexed in many years. They both love the record, and Peter went over the top and fell in love right away and is being the Peter of old. He's our de-facto manager now, trying to work all the angles and think about everything.
"We don't expect to go to Paris or anywhere else and have everybody say, 'Where have you been for 40 years, we love you now.' We don't think that's gonna happen, but there's that guy, Radek, in Poland, who's going, 'Come to Poland!' And Steve's friends in Sweden: 'Come to Sweden, we'll have an audience for you!' Danny Amis down in Mexico City: 'Come to Mexico City, the kids will go crazy.'"
Me: "Do it!"
"Those things would be fun to experience, but hey man, we're old now," says Osgood, laughing. "We've been beaten down every single way, and we've experienced frustration and disappointment and disregard for our music, so if we go back out and play gigs, that's going to happen again. The only way we would be immune to that is if we just stayed put and played to an ever-shrinking audience because they're starting to die."
The current Commando goals are modest: Sell out of Time Bomb's initial run of 1,000 CDs and vinyl, and do mini-tours of the United States and Europe. This will be one of the busiest summers in the band's 40-year history, including an August 18 appearance at Lake Harriet's movies and music series, which pairs local bands with a kindred-spirited film.
"Guess what our film is," says Osgood.
"Rock & Roll High School?"
"Grumpy Old Men."
Suicide Commandos record release
When: 7 p.m. Fri. May 5
Where: Turf Club
Tickets: Free
Suicide Commandos in-store
When: 2 p.m. Sat. May 6
Where: Treehouse Records
Tickets: Free
Minnesota's '70s punk pioneers Suicide Commandos finally make another record
Peers of the Ramones and mentors to the Replacements, Minneapolis' Suicide Commandos finally have a sophomore album.
By Chris Riemenschneider Star Tribune
http://www.startribune.com/minnesota-s-70s-punk-pioneers-suicide-commandos-finally-make-second-record/420666043/
APRIL 28, 2017 — 3:47PM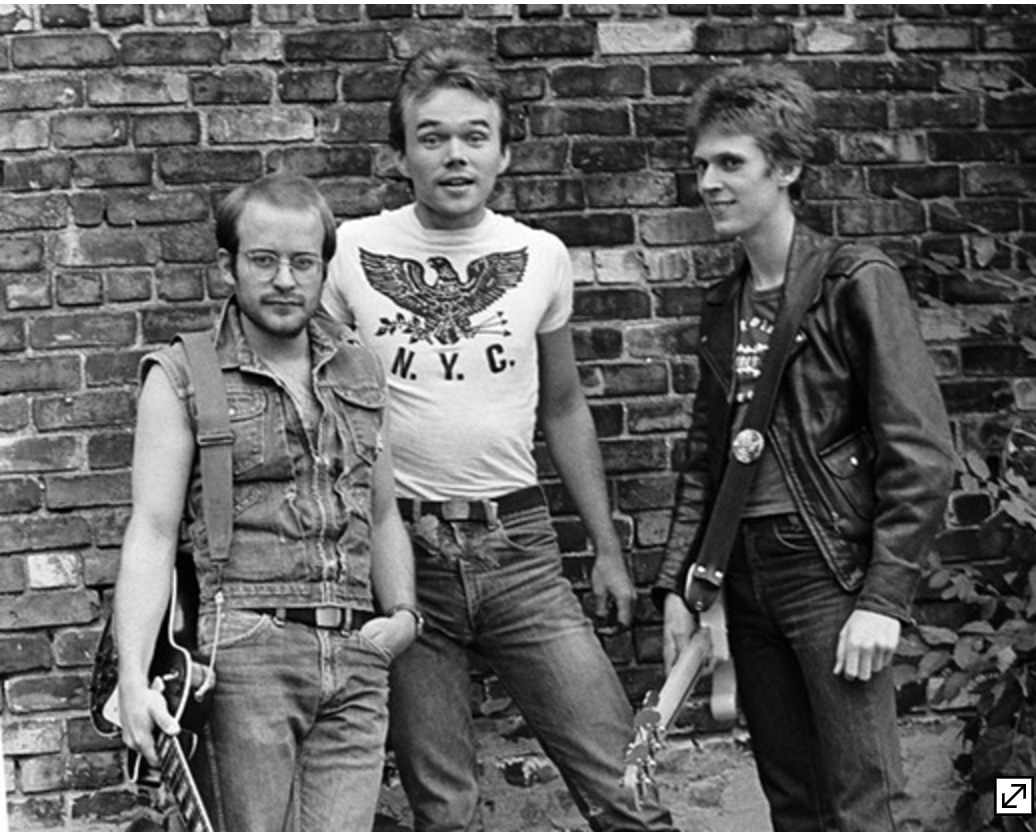 PHOTO: MICHAEL MARKOS The Suicide Commandos — Chris Osgood, Dave Ahl and Steve Almaas — at the Pilot's Club bar (now the Triple Rock) in 1977, the year they opened for the Ramones and landed a record deal.
When the last original member of the Ramones, Tommy Erdelyi, died in 2014, the three surviving members of the Suicide Commandos decided it finally was time to come alive again.
Even then, though, the members of Minnesota's pioneering punk-rock trio didn't exactly break any land speed records.
"I said, 'The Ramones are all dead, and we're all still alive,' " bassist/co-vocalist Steve Almaas recalls telling his bandmates, who opened for the Ramones' first Twin Cities gig in 1977. Much like the Ramones did for the world in the late '70s, the Commandos created a blueprint for all the DIY Minnesota punk bands that followed, including the Replacements and Hüsker Dü.
"We should make another record while we're all still here," Almaas concluded.
That mantra may lack the youthful vim and vigor and biting aggression that defined the Suicide Commandos the first time around, but it's arguably more purposeful. It might even be more punk rock.
And it finally sparked a hard-rocking new Commandos album, "Time Bomb," which lands Friday via the newly relaunched Twin/Tone label. The band took three years after Almaas' challenge to put out the LP, but that's still relatively quick considering that its previous studio album — its one and only other studio album — came out in 1978.
"We're on the one-album-every-39-years plan," guitarist/co-vocalist Chris Osgood cracked. "It's worked well for us so far."
Actually, things did work out pretty well for the Commandos over the years. Osgood, Almaas and drummer/singer Dave Ahl — all in their early 60s now — lasted as a full-time band for only four years (1975-79) and never made a big splash commercially. However, in the ensuing years they remained good friends with stable personal lives and steady day jobs.
They've reunited for Suicide Commandos shows every couple of years since the mid-1990s, when Mercury Records reissued their prior album, "Make a Record." The 1978 LP originally came out on Blank Records, a Mercury subsidiary run by future Metallica managers Cliff Burnstein and Peter Mensch.
Blank Records was short-lived, however, and the label's demise led to the Commandos' decision to call it quits at the end of 1979. Almaas' plan to move to New York didn't help, either. The trio trumpeted its breakup with three farewell concerts at the old Longhorn Bar in Minneapolis over Thanksgiving weekend that year, which were recorded and released by Twin/Tone as a live LP, "The Commandos Commit Suicide Dance Concert."
While they have some vague regrets about it now — "We were pretty cocky to think we could all just start new bands and people would like them just as much," Ahl admitted — the Commandos still believe it was a good decision.
"I sort of look at it like we went out at the top of our game," Ahl said.
Added Almaas, "It felt like the right time. The Suburbs — who were and are great friends of ours — had come along and were kind of the hot new kings of the hill, and it felt like it was time for us to step aside."
Hallelujah, boys
Despite their friendships and semi-frequent reunions, the Commandos claim they never really thought about making another album until 2014.
"The timing was just never right to make another record," explained Almaas, who enjoyed modest success with the Blasters-style roots-rock band Beat Rodeo after moving to New York. He has since joined remade lineups of cult-loved '80s groups the Del Lords and the Raybeats.
Now living in West Saugerties, N.Y., the bassist pointed out the role technology played in making a new Commandos record a reality: "Even just a few years ago, it would've been a lot harder to do it this way," he said.
Almaas sent song ideas back and forth via e-mail to his bandmates in the Twin Cities in the months leading up to their recording sessions. One of his songs, "Hallelujah Boys," struck everyone as the perfect opening salvo for the record. It preaches the joys of rock 'n' roll around the rousing hook, "Hallelujah, boys, we're on the road again."
The Commandos finally entered a studio again in April 2016, when Hüsker Dü's Bob Mould — one of countless musicians Osgood mentored as a guitar teacher and general supporter over the decades — invited them to open two shows at First Avenue. They rocked the packed club two nights in a row, then spent three days holed up in producer Kevin Bowe's recording facility in south Minneapolis.
In the end, they actually worked fast.
"We just wanted to get the basic tracks done in that time — bass and drums — but wound up getting a lot more," said Ahl, a Richfield-based sound and construction specialist by trade who designed and built Bowe's studio. The drummer also designed the rugged 7th Street Entry and hi-fi Terrarium and former Flyte Tyme studios.
"We really had a blast when we were recording," said Osgood, who over the past decade has worked dual jobs as a vice president at McNally Smith College of Music and a wine importer. "There's still something special that happens when it's the three of us, both musically and personally."
Finding utopia again
Just like on "Make a Record," all three Commandos sang and wrote for the new album. Ahl's songs include "Frogtown," about an especially stormy fight between two ex-lovers. Osgood contributed the temptation-riddled blaster "Boogie's Coldest Acre" and a cool talking-blues tune, "Pool Palace Cigar," about some of the gritty small-town bars the band frequented back in the day.
"Before the Longhorn, we had to play all these schools and places in small towns like Faribault," Osgood recounted. "There was nothing to do once we got into town but hang out at the local bar or pool hall with the interesting people there, drinking in the afternoon."
The Commandos' colorful history is documented in Cyn Collins' new oral-history book, "Complicated Fun: The Birth of Minneapolis Punk and Indie Rock, 1974-1984," named after the trio's best-known song. The book publishes this week in conjunction with the LP release.
Some of the more memorable stories involve the parties and other fun the Commandos shared in their early 20s while living together in a big, dilapidated (and cheap!) house by Lake Minnetonka, near where Osgood and Ahl grew up. The so-called Utopia House had no running water or heat and was eventually taken down in a controlled burn, an event the band famously filmed with Devo collaborator Chuck Statler as an ahead-of-its-time music video for the Commandos song "Burn It Down."
"There wasn't any CGI [filmmaking effects] in 1977, that's all 100 percent real!" Ahl bragged. "We were close enough to the fire, the embers from it burned holes in my drumheads."
As much fun as they had back in those fiery days, the Commandos make it clear they're not trying to reclaim their youth with "Time Bomb," which they're promoting with a listening party Friday in the Turf Club's Clown Lounge and an acoustic set Saturday afternoon at Treehouse Records. Instead, they're proudly showing their age and incorporating more of the '60s Anglophile and garage-rock influences they've always loved.
"The one good thing about waiting 39 years to make this record is I believe we are that much better as musicians," Osgood said.
"There's over 180 years of experience on this record," Ahl proudly added. "It's definitely a record we couldn't have made in 1977."
Perhaps they could've at least tried to make it in '87, '97 or '07, but at least it's finally here.
cultureSonar: Twin/Tone Records Returns with a New Release from Suicide Commandos
http://www.culturesonar.com/twin-tone-suicide-commandos/
APR 29, 2017by JEFFREY BUKOWSKIin HEAR
It's not every day that a legendary band reunites after nearly 40 years apart to record a new record. Rarer still, a legendary record company comes out of the mothballs to stamp its imprimatur on the effort. But with this month's release of the Suicide Commandos' new album, Time Bomb, on Minneapolis' storied Twin/Tone Records, two nearly unthinkable scenarios are suddenly upon us. While the album's appearance and its label may not herald a new age of Midwestern Punk, it certainly provides an education about, and a reminder of, the brief, shining moment that was Twin/Tone and its incredible roster.
CultureSonar recently spoke with the celebrated co-founder of Twin/Tone Records and former Replacements' manager Peter Jesperson about the Suicide Commandos and reintroducing his old record label to the world. Jesperson, who it's safe to assume would know such things, calls the Suicide Commandos "the granddaddies of the Minneapolis music scene in the late '70s and early '80s" and credits them with introducing the concept of original songwriting into what was in the '70s a cover-driven bar band scene. The band – lead guitarist and frontman Chris Osgood, bassist Steve Almaas, and drummer Dave Ahl – carved out a niche not only as punk rockers, but as punk rockers who wrote and performed their own songs and were fearless performers.
"They clearly cut a path when there wasn't one before," Jesperson said. "They went to New York before anyone we knew went there, and also to the west coast. They were very aggressive about what they did in a cool, smart way."
Adept CultureSonar readers (and is there any other kind?) have probably already realized that the Commados' cool smarts had tremendous influence on what became the Twin Cities' punk scene. It's easy to trace a direct line from them to The Replacements, Husker Du and Soul Asylum, and they were instrumental in the creation of Twin/Tone Records.
"I was running a record store in Minneapolis and we saw all these indie labels come through and wanted to start a local label," Jesperson said. "Osgood and [Twin/Tone co-founder and sound engineer] Paul Stark had the original idea, and I was recruited to replace Chris when [The Commandos] signed to Blank Records, which was Mercury Records' 'new wave' imprint."
Blank Records was almost DOA, and the Commandos broke up, but Twin/Tone released the live album The Suicide Commandos Commit Suicide Dance Concert as its first full-length offering in 1979. The label, led by Jesperson, Stark and the late sports writer and music critic Charley Hallman, prospered throughout the 1980s and 1990s, releasing albums from groups as diverse as The Slickee Boys, Babes in Toyland, The Mekons and many others. It became, along with Slash, Stiff, 415 and a handful of others, a touchstone for '80s alternative acts who major labels wouldn't yet touch.
So it was only natural, when a new Suicide Commandos album became a reality, that they should want to document it on Twin/Tone, which had for all intents and purposes ceased existing in the mid-'90s. The impetus came naturally and organically, when Osgood called Stark and asked if it was possible Twin/Tone could be resurrected for the release. After Almaas sent Jesperson a rough mix of their new material last fall, things fell into place rather quickly and easily.
(This is as good a place as any to pause and say a word about Time Bomb. It's a good album. Maybe even a great album. Produced by the Commandos, engineered by Kevin Bowe (Paul Westerberg, Dan Wilson) and mixed by indie-rock lifer Mitch Easter (R.E.M., Big Star), it's raucous and playful and punky and mostly very loud. It's certainly better than anybody would have a right to expect from a group of guys playing in a band that hasn't existed for 40 years and who are all on the other side of 60. CultureSonar readers could do a lot worse than to pick it up. The album's May 5 release includes an initial limited run of 1,000 vinyl copies and is of course also available digitally. There may be a future CD release if the people demand it.)
With the release of Time Bomb, perhaps the most obvious and natural question is about the future of Twin/Tone. Will it return for good? Will it return ever, even for another one-off? Is there any way, in this digital age, for the label to recapture its past glory?
The short answer, per Jesperson, is "it's anybody's guess. If we can figure out a simple and fun way to make more records, and if we can come up with the right sort of funding, we'll do it." The current vinyl reawakening may or may not last, and the role of record labels is of course very different than it was in Twin/Tone's heyday. There are, by Jesperson's account, "five acts I'd do backflips to get on Twin/Tone and three of them are very eager to be involved if the label continues."
Though he declined to name any of the acts, Jesperson sounded an optimistic note about future opportunities.
"I pretty much listen to everything I get," he said. "I've never been the kind of guy to spot future trends, and I'm not exactly putting my shingle out to solicit new acts, but if somebody really catches my ear, it might be worth it to use Twin/Tone for A&R and distribution."
"But," Jesperson quickly noted, "if it ends up that [the Twin/Tone relaunch] turns out to be Commandos and nothing else, I'm totally happy with that, too."
The Suicide Commandos' new album, Time Bomb is available through all digital outlets, select record stores, Amazon.com and through the Twin/Tone website.
Impose Magazine
http://www.imposemagazine.com/bytes/chatter/week-in-pop-los-angeles-police-department-forged-artifacts-va-violet-cat-hoch-the-total-bettys-mr-husband/7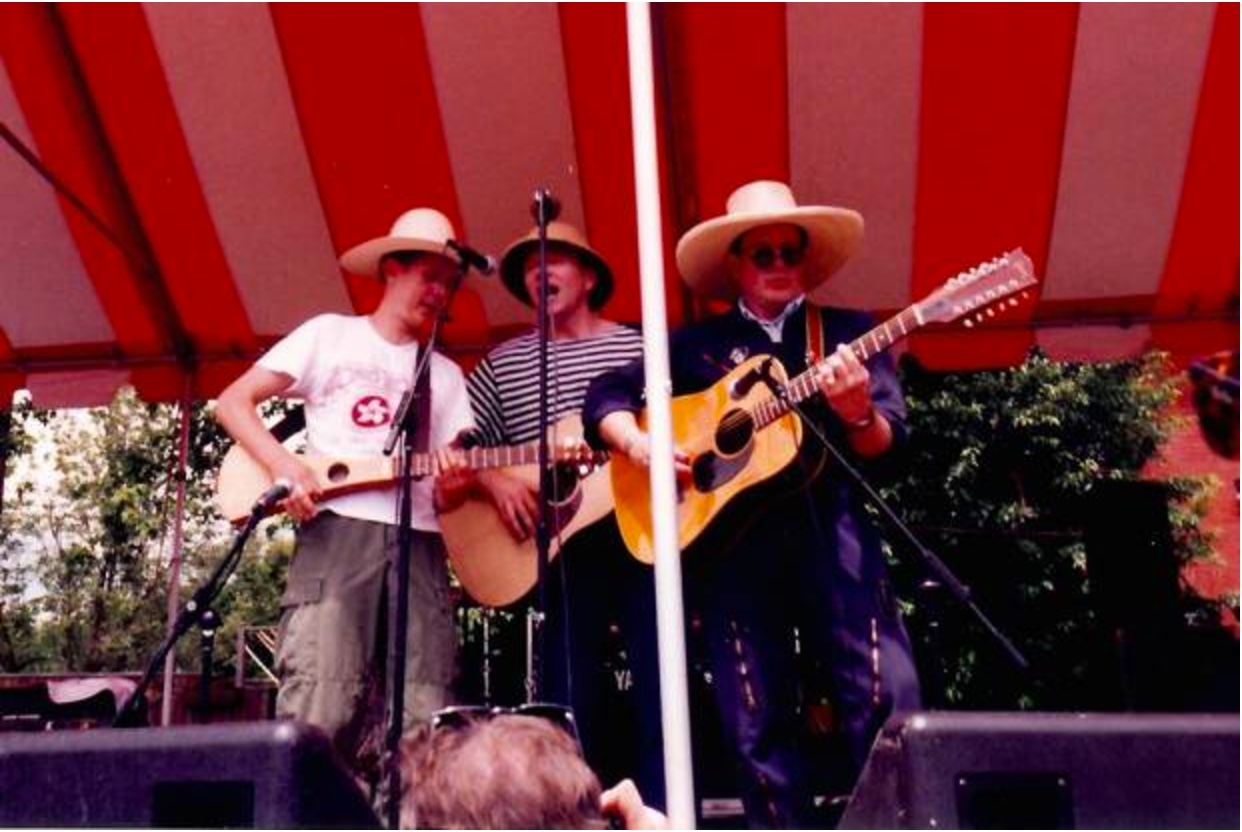 April 28, 2017 by Sjimon Gompers
Old school meets the new schools of scuzz as The Suicide Commandos returned with a listen to the "Boogie's Coldest Acre" featured off the forthcoming album Time Bomb available via the imprint Twin Tone Records (that was resurrected just for this release) May 5. Like a blast from some 39 odd years brought back from the past, The Commandos return with more sordid tales from the Twin Cities from the group whose Chris Osgood taught heroes like Bob Mould, Dave Pirner & more guitar back in the day. Listen as the Minneapolis group makes 2017 feel like an extension of 1975 where tales of derelicts & the best laid plans of mice & men being foiled by their own folly as served up with a whole lotta attitude that stays true to all punk ethics.
Also take in The Suicide Commandos' video for "Boogie's Coldest Acre" that features photography from Steven Cohen, Dan Corrigan, Terry Gydesen, Paul Lundgren, Ann Marsden, Lisa Nebenzahl, Nick Wosika, with video montage work courtesy of Paul Stark. The legendary Minneapolis trio shares a bit of where they came from, where they have been & all the exciting new opportunities of now that point to where they are headed toward. Their return presents the group reclaiming their DIY, o.g. noise-pop throne as The Suicide Commandos remind you about the folks they have influenced (past & present) that points toward the terrain of all tomorrow's heroes.
The legendary & influential Chris Osgood penned the following exclusive ballad of the band style that connects the dots between 1977 & 2017:
The Suicide Commandos are a Punk Rock Band that formed in 1975. We have been touring and making studio albums about once every 39 years. The latest Commando Record ,"Time Bomb" is being released by Twin/Tone Records on May 5th. Twin/Tone is a legendary Minneapolis label that put out records by The Replacements, Soul Asylum, The Suburbs, The Wallets, Babes In Toyland, ourselves and many other bands until they stopped in 1994. Now they have started again!

The Commandos are a three-piece band, myself (Chris Osgood,), Steve Almaas, and Dave Ahl. To paraphrase Billy Gibbons, "Same three guys, same three chords." The music we wrote and recorded for "Time Bomb" comes from very much the same place it did in 1977 when we recorded "Make A Record" for Phonogram's "New Wave" imprint Blank Records. (Blank was started by Cliff Burnstein, and we were his second signing after Pere Ubu, our friends from Cleveland. Cliff and his partner Peter Mensch now are Q Prime and manage Metallica and Red Hot Chili Peppers and other colossal bands.)

The big difference from 1977, is that we are 39 years older than when we made our first studio record! There have been miscellaneous live albums released in between, notably various versions of The Commandos Commit Suicide Dance Concert culled from our last three nights at The Longhorn Bar in Minneapolis Fall of 1978 on Twin/Tone Records, Garage D'Or Records and Rave Up Records in Europe. Paul Stark at Twin/Tone recorded all three nights before we broke up. We each put a song on Twin/Tone's Big Hits of Mid-America Vol. III (recorded posthumously). Then one of the band members Steve Aalmaas moved to New York to form Beat Rodeo and Dave and I went on to other projects individually and together. The Commandos began playing together again here and there, usually introduced as "Back By Popular Demand" and we have been doing a few shows a year pretty regularly in this century. We now know a few more chords, whether we choose to use them or not!

"Boogie's Coldest Acre" is about thinking you are heading for one thing and discovering that you have landed at another place. Maybe that other place looked good but isn't so good for you. For one thing, you'll note from the lyrics of the song, it smells funny! There also is an instructional refrain that may or may not be directed at a fellow traveler. "Will you put that fuckin' thing down?!" I think we have all thought that in some situation at some point, right?
The Suicide Commandos brand new album Time Bomb will be available from the equally legendary label Twin Tone Records.
STEREO EMBERS MAGAZINE: The Suicide Commandos' Time Bomb Out May 5
APRIL 27, 2017
http://stereoembersmagazine.com/suicide-commandos-time-bomb-may-5/
Written by: Alex Green
"I like to see people reunited," Jonathan Safran Foer once wrote. "I like the bringing together…the end of missing someone."
It may have taken almost 40 years, but the time has come to finally put an end to missing the Suicide Commandos.
The legendary punk rock trio from Minneapolis are set to release the long-awaited follow up to their seminal 1978 debut Make A Record.
The original 'Commandos line-up–Steve Almaas, Dave Ahl and Chris Osgood–have announced that their new album Time Bomb will be out May 5.
Getting their start in 1975, the Suicide Commandos' searing blend of speedbag punk and rock and roll cool brought to mind a glorious confluence of Gene Vincent and The Ramones. Numbers like "Shock Appeal" and "Burn It Down" were not only instant classics, in a live setting they were nothing short of astonishing punk rock glory.
Although the band called it a day before the dawn of the '80s, a limited edition (1,000 numbered copies) Twin/Tone-released live record The Suicide Commandos Commit Suicide Dance Concert came out in 1979. SEM's Matt Sloan was one of the few who got his hands on it and he remembers its impact. "For young punk rockers like me growing up in the Mid-West," he recounts, "that record was our Frampton Comes Alive. It captured the feral heartbeat of one of the greatest live bands on the planet."
Recorded at Master Mix Studios by Kevin Bowe (Paul Westerberg, Dan Wilson) and mixed by Mitch Easter (R.E.M., Let's Active) at Fidelitorium Recordings in North Carolina, Time Bomb is a startling return to form. Not many bands can wait 40 years to put out their second record and even fewer can sound as fresh, vital and urgent as the Suicide Commandos.
The occasion has forced the hand of the long-defunct Twin/Tone Records to come out of retirement for the occasion and release the album under their name.